Open Sidebar
Free Jesse Tree Advent Devotional Book
We can't wait to begin! Will you join us?
Each of the 25 days of the journey includes:
The full Bible text

of the day's reading in either NCV or NIV (of course, feel free to read from your own Bible, if you'd prefer another translation.) Readings are selected to begin in Genesis and cover significant events throughout the Old Testament — each story pointing to the coming Messiah. It's like an overview of the whole span of His Story — leading right up to the climax of the coming Christ!
A devotional that

(humbly attempts!

)

to be a read-aloud for the whole family – engaging enough for young children and yet meaty enough for teens and adults. (Thank you for grace!) Each reflection endeavors to not only highlight an important scene from God's epic in time, but to always unwrap more of  Jesus, the gift hidden in every story.

a short, simple action point for the day

— "Unwrapping more of His love in the World" — a way to do something together as a family that not only invites the coming Kingdom of God and Jesus' love into your home and community, but is an opportunity to apply and live out the day's devotional. It's like an Advent Calendar that

gives back

– becoming more like the gift Himself!

a full color ornament

, illustrated by Nancy Rodden and used with permission, to hang on your own Jesse Tree. The very last pages of the book include all of the ornaments in over several pages so you can easily cut each ornament out and creatively mount to your own preferences
Sample Pages from the book :
::
::
::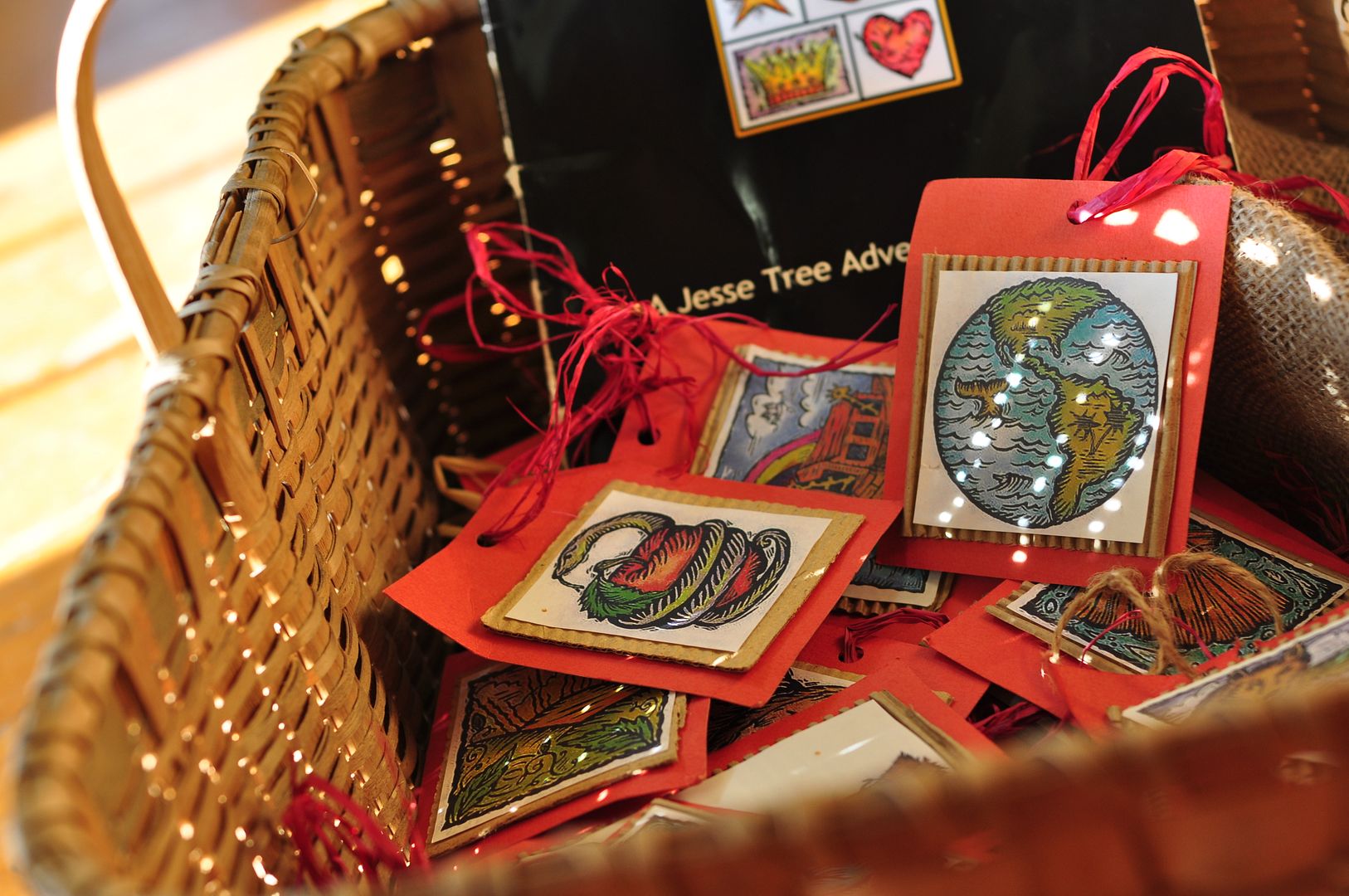 ::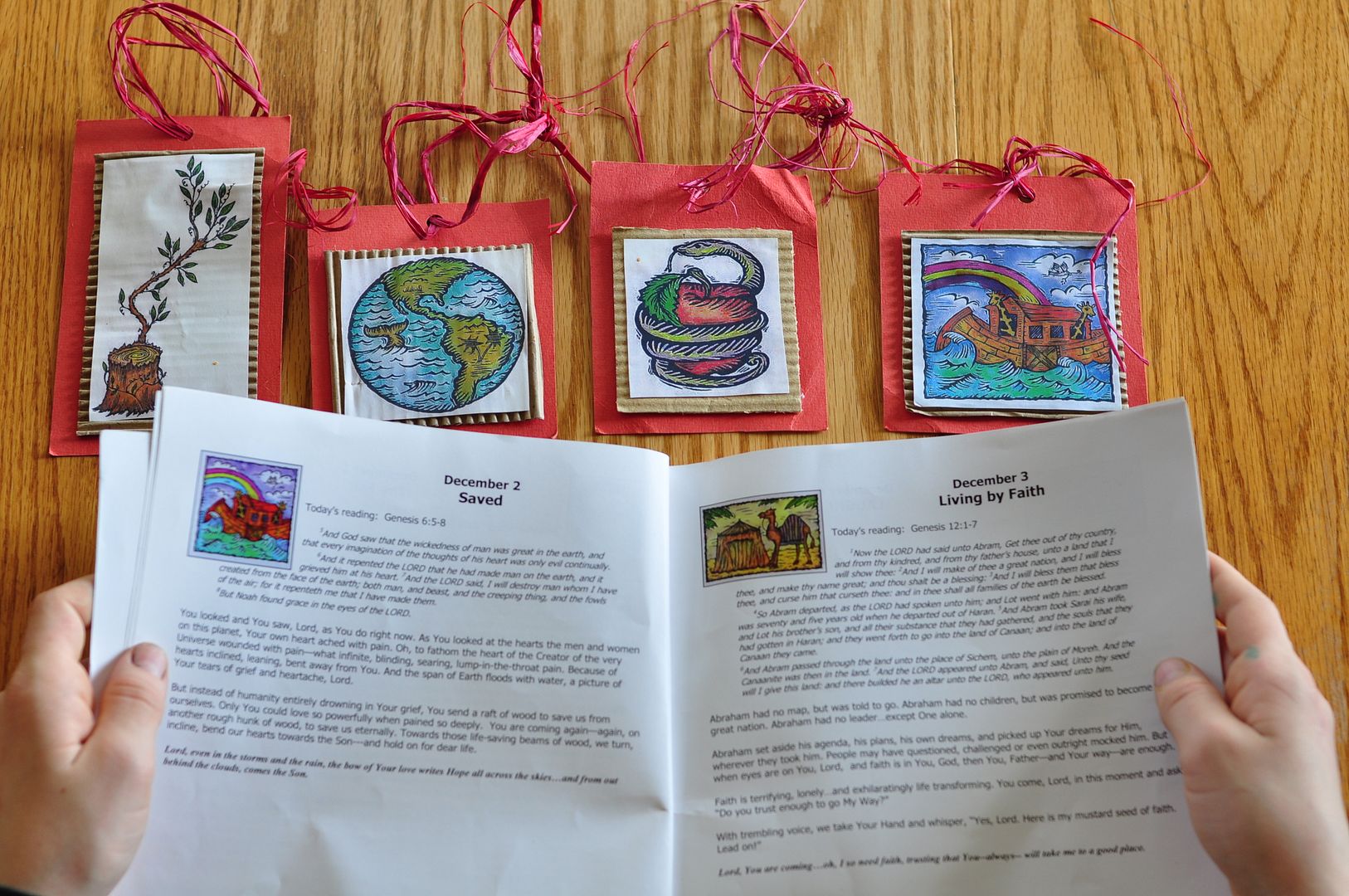 ::
It's our free gift to you, our friends…
To thank you. For all the ways you've cared and encouraged and written notes and prayed for us this year. Though I can't always express it well to each and every one, know how our heart swells… Our whole family, we truly appreciate you.
So from our heart and home to you and yours this Christmas season, may our family offer this book to you as our humble, imperfect little gift? May we all find our home in Christ year round.
Christ has unwrapped more of His love to us every day– through you.
So utterly grateful,


::
::
To receive the link
to the Free Jesse Tree Advent Devotional book

The link to the free printable Jesse Tree Advent book is a gift included in the footer of each updated RSS post to this site.

If you've already made yourself a friend and subscribe to daily updates from this site, just look to the bottom of this post in your reader or email – and you'll see your gift link to the downloadable free Jesse Tree Advent book right there. And can we just thank you? For your friendship and grace and all the ways you've reached out and shared a bit of the walk together —  we are grateful for you and slip this book to you with greatest joy! Merry Christmas and blessed Advent, friends!

If you would like to receive a link to the free printable Jesse Tree Advent book, don't by shy at all or stay a stranger – we warmly invite you to come and make yourself a friend! Join a bit of the journey and sign up for updates of this site via email or via RSS feed to your reader. Each update of the site includes the link to the free download of the Jesse Tree Advent book in the footer of the post.

Become a friend and quietly tap in your email address  and the link to the e-book will be delivered directly to your inbox, in the footer of each updated post:

Or, if you'd rather,  the link to the free Jesse Tree Advent Devotional e-book can be delivered through your favorite reader. Sign up for updates to this site via the RSS feed to your favorite reader. (The link to the downloadable Jesse Tree Journey book is tucked in to the bottom of each post update.)

Our Warmest Welcome, new friend!

Thank you for the humble gift of your friendship. It's a humble grace to walk together… Christ came to do that exactly that with us…

Merriest of Christmases, one and all…
Perhaps there's encouragement too for you in these Advent thoughts?
Three Very Simple Ways to have a Peaceful Advent
What Jesus Really Wants This Year for His Birthday